Thermoplastic Road Marking Machine Features
•Labor-saving: Unique design of screeding knife bottom ensure a good sealing and easy open & close.

•Wide application: Thermoplastic Road Marking Machine have the advantage of low investment, light weight, suitable for the marking work with thermoplastic paints in all kinds of roads, vehicle parks, schools, factories, etc.

•Road line marking machines with adjustable glass beads dispenser: Synchronous clutching and spreading, equipped with speed shifting device. Adjustable width 50-200mm..

•Double stainless steel heating insulation barrels, capacity 100kg.

•Scree-ding type road marking hopper: Using the hopper, making the lines much neat and more elegant.

•Adjustable pointer in order to improve work efficiency.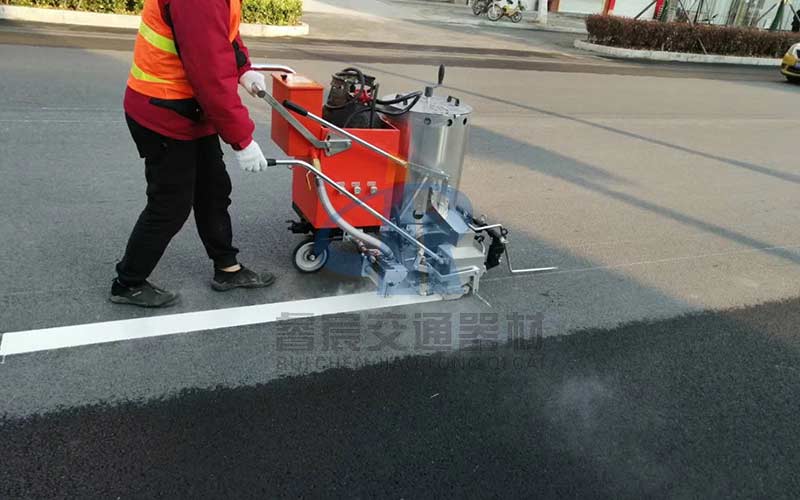 Thermoplastic Road Marking Machine Parameters
    Paint Barrels:
    double stainless steel heating insulation barrels, capacity 100 kg,
plug-in manually mixer devices, removable devices
    Glass Bead
Storage Box:
    10 kg / box
    Glass Beads Sow
Browser:
    synchronous clutch spread with speed gearshift device
    Marking Width:
    High-precision ultra-thin material manufacturing, scraper-type structure,
the standard configuration of 150 mm, Can provide 100-450mm
    Landing Knife:
    Carbide, with eccentric sleeve device can adjust the thickness of
the scope marking :1-2.5 mm
    Tire:
    Alloy Wheel Unit, a special heat-resistant rubber, after the last round
with positioning devices for the body along a straight line direction
    Heating Method:
    liquefied petroleum gas
    Subscript Line
Width:
    150 mm engineering requirements in accordance with the
replacement of different specifications crossed Doo
    Size:
    1200 * 900 * 950 mm
    Net Weight:
    100kg (220.5ib)